In Google's Stadia stream today the tech company announced the pricing model for the service as well as the coming games.
Games
Along with already released games coming to the Stadia, several new titles were announced during the stream. Baldur's Gate III was the first trailer shown and is a big win for Google considering how long fans have been waiting for the next entry. It will be developed by Larian Studios, the developers behind the Divinity: Original Sin series. It will not be exclusive to Stadia as it is coming to PC as well.
Also announced were the games Gylt from Tequila Works and Get Packed from Moonshine Studios. The former seems to be a stealth/horror game from the Rime developers, and the latter looks to be a crazy physics based multiplayer game. Destiny 2 debuted a new trailer for its next expansion Shadowkeep after announcing the game would be on Stadia and will now support cross saves.
Ubisoft seems to be supporting the Stadio in a big way, with The Division 2 coming to the platform along with the upcoming Ghost Recon: Breakpoint, which debuted a new trailer. Just Dance, Trials and The Crew were a few of the other series teased in the Stadia trailer.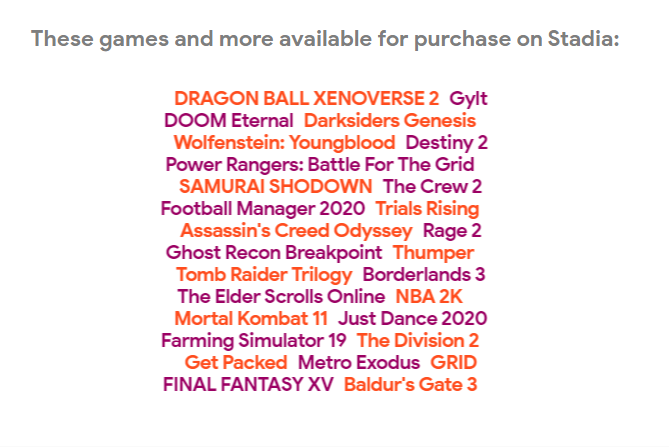 Pricing
One of the biggest questions about the Stadia has been what it will cost. Google announced it will have a free version as well as a subscription based model. The free version and Stadio Pro subscription, which will be $9.99 a month, will not release until early 2020 though. Either way you still have to pay for the games, although Stadio Pro will have discounts and free games, possibly similar to Playstation Plus and Games with Gold.
To play in November (the advertised release) you have to buy the Founder's Edition priced at $129. It comes with a special edition Stadia controller, a Chromecast Ultra, 3-month subscription, 3-month buddy pass and early access to getting your Stadia name. The pack also comes with a copy of Destiny 2 and all of it's previous DLC and the upcoming Shadowkeep content.
Final Thoughts
It's a bit of a surprise Google has decided to have a subscription and charge for individual games. Many hoped for a Netflix-like subscription service instead. It seems like a steep price to pay monthly just for access to improved features like 4K and 60 FPS. A lot of people still don't even have 4K TV's or devices.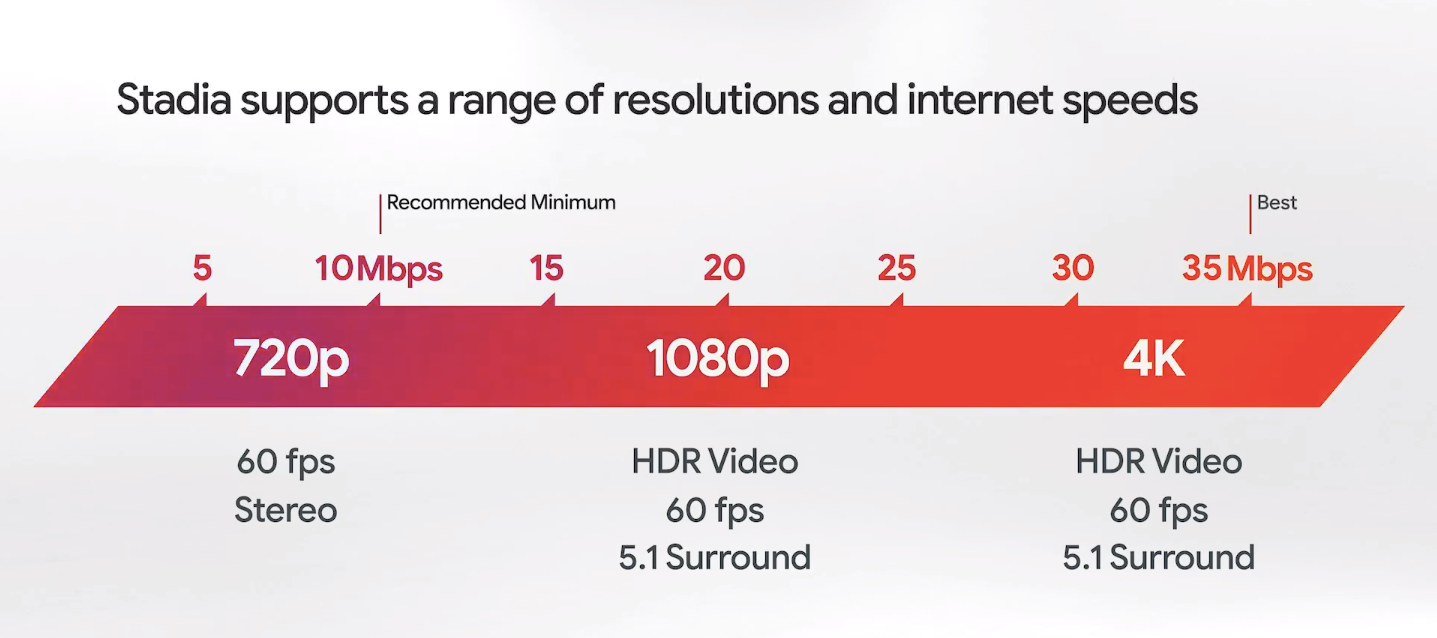 It'll be interesting what Sony and Microsoft (and to an extent Nintendo) announce with their upcoming next-gen consoles. They could potentially steal a lot of Stadia's thunder by offering those features with a one time purchase.
If you're interested in being one of the first to play Stadia games, Google opened up the Founder's Edition pre-orders here. Otherwise you'll have to wait to try it out when Google opens it up in early 2020. Just make sure you're in one of the 14 countries in which Stadia will launch. Those countries are the U.S., Canada, U.K., Ireland, France, Germany, Italy, Spain, Netherlands, Belgium, Denmark, Sweden, Norway, and Finland. Google plans to add more in 2020.