I'm only 80 hours into the spectacular RPG that is Assassin's Creed Odyssey, but I'm nowhere near completing the main story. I've spent most of my free time completing location objectives, bounties, side quests, and taking screenshots of the gorgeous world. Following Kassandra's mission to reunite her family and break the Cult's hold on Greece is great, but so is hanging out with Alkibiades. Without further ado, here are my top three favourite NPCs.
Barnabas
There's a lot of time spent on the open waters of the Aegean in Odyssey. Naturally, you'll be spending that time next to your first mate, and it's a good thing he's a lovable man. Barnabas is a salty sailor whom the player saves from death in the early hours of the game. He quickly becomes a close friend and ally of Kassandra, constantly encouraging her with his undying enthusiasm. He doesn't seem to lose his energetic positivity, even under the most dire circumstances. Between his persistent belief in Kassandra's abilities and his innate alacrity, I can't help but love him.
Xenia the Pirate Queen
A royal title such as "queen" brings about the imagery of elegance, grace, and stern beauty. This is precisely the opposite image presented by Xenia. She's a large, intimidating pirate with scars about her face and muscles to spare. The only thing stronger than her persecuting gaze is her rule over the pirate island of Keos. Despite her gruff demeanor, Xenia is still very helpful to Kassandra in finding her mother. She exudes a kindness after the first interaction between her and the protagonist which warms my heart – to a point. Xenia is still a very tough pirate and deserves all the respect she's earned, but it becomes clear that she has a heart of gold.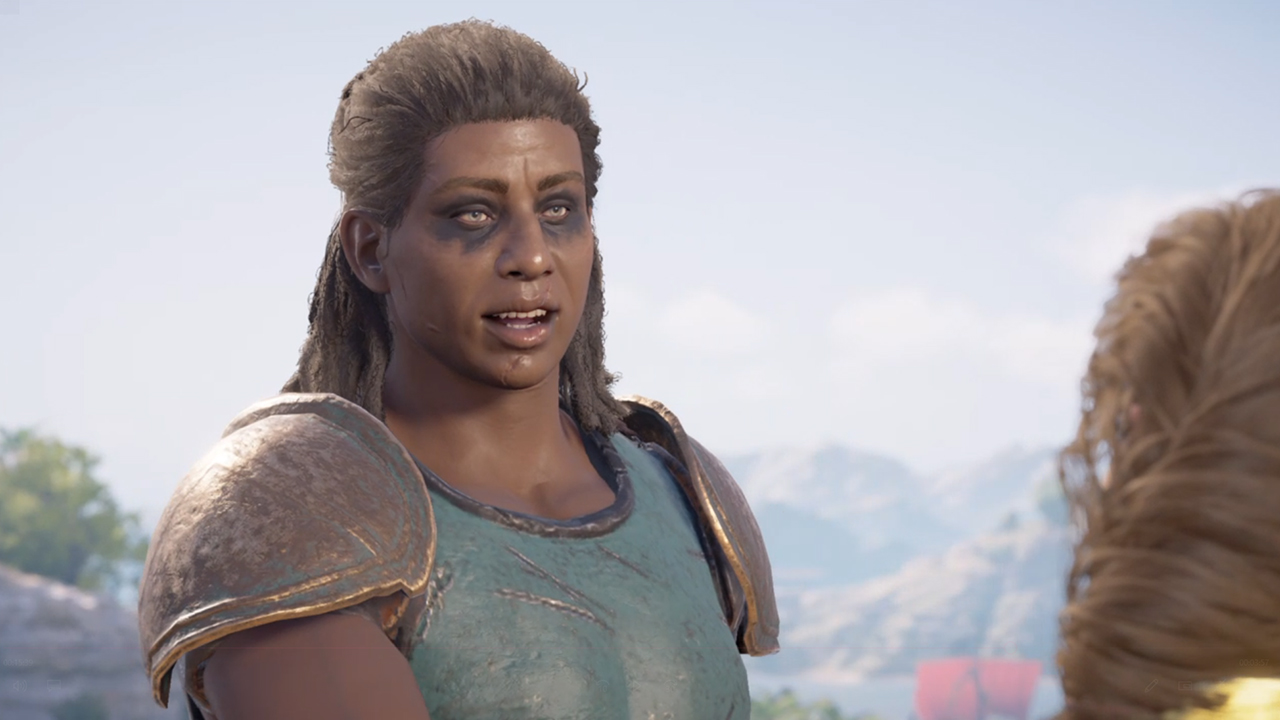 Alkibiades
Far from the salty nature of the others on this list is sex-obsessed Alkibiades. He's a philosopher, a schemer, and apparently very good in bed. I love this man. Interacting with him never fails to be entertaining and his dialogue brings about a sense of whimsy. His lines are full of sexual innuendo and it's honestly a welcome delight after some of the much darker main story quests.
Alkibiades is the first on my list because of the line of side quests he has to offer. They're funny, but bring about a sense of suspicion that isn't resolved until the end of the quest line. While I love interacting with Alkibiades for no reason other than his whimsical nature, I respect him for his personal aspirations and his means of realizing them. It's also revealed that in conjunction with his comical personality, he's a good person. He's a very well developed character with whom I connected.
There you have it, my current top three Assassin's Creed Odyssey NPCs. It was very difficult to narrow this down to just three. I'm sure I'll meet other characters very soon that are just as memorable, but for now, this is it. All of the characters in Odyssey have been spectacular and I'm really excited to see who I meet next.